Congratulations! You have a little bundle of joy on the way! Now you are faced with the mile-long list of items you "need" for the wee one--and somewhere on that list is the car seat. So you head out to Babies-R-Us and are faced with the seemingly endless line of carseats. Some are basic models with plain covers and a fabulous price, and some are frilly with fancy names and a long list of impressive features, and an impressive price tag. So which one do you pick? If you're anything like me, they all look the same, so you pick the cutest cover and go on your merry way. With my first child, the gender was a surprise, so we wanted something gender-neutral but not plain and ugly. And of course we wanted the travel system, so we had the matching stroller and an endless possibility of easy navigation of zoos and malls and airports. We ended up picking this one: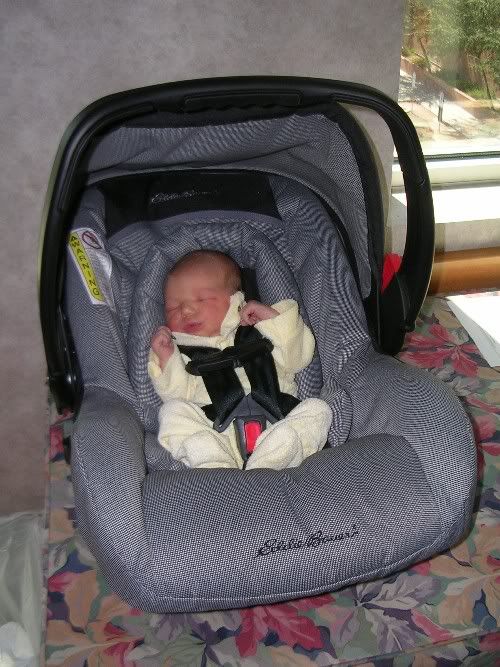 Cute, huh? Well, turns out cuteness isn't everything: this particular model was recalled the week before my baby was born: there were reports that the straps would suddenly release. At the time, I thought it was no big deal, since it didn't seem to be a problem with our seat, and, after all, I'd be careful. A much bigger issue to me was the fact that the harness adjusted from the back (appropriately, this is called a "rear-adjust" seat) and it was very inconvenient to have to loosen the straps from the back, wrestle the baby into it, and then tighten from the back again. The stroller also broke the one and only time I used it, so we moved to a convertible car seat (one that rear- and forward- faces) when Mali was 2 months old.
So, now that I have lived and learned (and, by the way, I am on baby #3 and have gone through an embarrassing number of car seats) I thought I would share a few things I have learned about infant seats:
#1. Remember, the safest seat is the one that fits your vehicle, your child, and your budget and will be used correctly every time. There is no magical seat that will be perfect for everybody. Car seats all pass the same federal standards, so they are all considered to be equal in terms of safety.
#2: Consider your vehicle when picking a car seat! Most cars don't allow you to use the LATCH anchors if you are installing the car seat in the center of the backseat (check your car's manual to be sure!), so if you are planning on using that position, or if you have a car that is not equipped with LATCH anchors, make sure you get a car seat that is easy to install with the seatbelt. It's also important to note that some car seats have different "rules" that can impact how they fit in your vehicle--for instance, the Baby Trend infant seats require the handle to be down while the car seat is in the car, and some Evenflo infant seats not only require that the handle be down in the car, but there also much be 1.5" of clearance between the car seat and the front vehicle seat--in a small car, this could be an issue.
#3: Decide what features are a must for you. If you are attracted to the convenience of an infant seat and want to use it as long as possible, look for an infant seat with high weight limits: there are now several models on the market that have a weight limit of 30-35 pounds. These seats also have taller shells, which means they can accommodate larger babies and are more likely to last you months longer than the seats with lower weight limits. Are you expecting a preemie or a small newborn? There are several seats with low bottom weight limits: some have 4 pound limits, and a few state they can be used "from birth", with no minimum weight requirement. There are also many features like infant supports, harness covers, infinite adjust harness systems, and even "anti-rebound bars" to consider.
#4. Play with the seats! Take a doll with you, and practice buckling up "baby". You'll quickly be able to judge which seats you like best, due to the adjustments, infant supports, and buckle system. You can also practice carrying them around and feel the difference in the weights of the various seats.
#5: Make sure you try them in your car! After you have narrowed down your selection to a few seats, make sure they install well in your car. If you have a Babies-R-Us near you, they allow you to take the seat to your car and practice installation. Break out the manual and follow the installation steps diligently, and you'll have a feel for the overall ease of installation.
#6: Register your seat. Once you make your selection and purchase your child's car seat, make sure you register it. It's really easy--a little postcard comes with the seat, usually attached to the harness. Just fill out your name and address, and stick it in the mail. This is how car seat manufacturers contact you in the event of a recall on your seat.
#7: Take your seat to a certified Child Passenger Safety Technician. This is very important. The nationwide rate of car seat mistakes or misuse is around 90%! You can find a technician by following this link and entering your ZIP code.
My top picks:
~Chicco Keyfit30. 4-30lbs rear-facing. This seat is easy to install either with the seatbelt or with LATCH, fits tiny babies well, and is very user-friendly.
~Safety1st Onboard Air. 4-35lbs rear-facing. Here's a seat that fits even the tiniest babies well, yet will last for many months to come, as it has a nice tall shell. It also has the "Air" technology that is designed to maximize side-impact protection (SIP).
~Graco Snugride35. 5-35lbs rear-facing. This seat is user-friendly and widely available with many color options to chose from.
~Combi Shuttle33. birth-33lbs rear-facing. This seat is rated "from birth" with no stated weight limit, so it is usable for preemies or small newborns under the 5lb weight limit of other seats. However, it might not fit all tiny babies height wise, as the bottom slots are slightly higher than the OnBoard and Keyfit.
Happy shopping!